The AUPO FCC website provides critical information to assist fellowship applicants in both understanding what to expect in a fellowship and in evaluating programs.   Fellowships that are AUPO FCC compliant are listed under each specific subspecialty on the AUPO FCC webpage.  Compliant programs are also clearly identified on the San Francisco Match web page (SF Match) by the following compliant banner.  The program listing and their compliant status is only available on the SF Match web page after you register.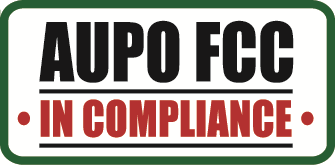 Each compliant fellowship meets or exceeds the standards set by the program requirements which cover medical & surgical training, research, academics, faculty, benefits and employment standards.  The program requirements are established by both the specific subspecialty society(s) in conjunction with the AUPO FCC.  While the fellowship requirements define your responsibilities and rights as an AUPO FCC fellow, specific individual fellowship information including salary, benefits, paid time off, malpractice coverage (including tail coverage), and call and clinic responsibilities are dependent upon individual fellowship and institutional policies and procedures.
During your fellowship, the AUPO FCC requirements dictate ongoing fellow evaluations.  As an AUPO FCC compliant fellow you will also be required to fill out a detailed exit survey as part of the program's annual review.  Your feedback at the completion of fellowship is critical to the AUPO FCC process and serves as one of the ways the FCC evaluates programs.
The AUPO FCC process is designed to protect the integrity of our fellowship training process and to protect the fellow. Education is our primary mission and protection of the public and the specialty are key objectives of the successful AUPO FCC process.